You are here
Daniel S. Greenbaum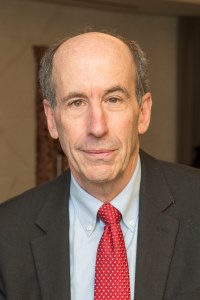 President Emeritus
For three decades, Dan Greenbaum has led HEI's efforts to provide public and private decision makers — in the U.S., Asia, Europe, and Latin America — with high quality, impartial, relevant, and credible science about the health effects of air pollution in order to inform air quality decisions in the developed and developing world. In that role he worked with HEI's sponsors in government and industry, its Scientific Committees and staff, and other environmental stakeholders to develop and implement the HEI Strategic Plan for Understanding the Health Effects of Air Pollution, which every five years sets HEI's course for the targeted, trusted science that has become the hallmark of HEI.
Greenbaum has been a member of the U.S. National Research Council (NRC) Board of Environmental Studies and Toxicology and Vice Chair of its Committee for Air Quality Management in the United States. He recently served on the NRC's Committee on The Hidden Costs of Energy and is currently serving on the Committee on Grand Challenges for Environmental Engineering. Greenbaum also chaired the EPA's Blue Ribbon Panel on Oxygenates in Gasoline and EPA's Clean Diesel Independent Review Panel, which reviewed technology progress in implementing the 2007 Highway Diesel Rule. He is currently a member of EPA's national Clean Air Act Advisory Committee.
Greenbaum has also contributed to major international assessments of science, including reviews of the WHO Air Quality Guidelines and by the International Agency for Research on Cancer.
He has been widely recognized for his contributions to advancing clean air and quality science.  In 2016, he received the California Air Resources Board's Haagen-Smit Clean Air Leadership Award, and in 2010, he received the Thomas W. Zosel Outstanding Individual Achievement Award from the U.S. EPA for his contributions to advancing clean air.
In addition to his leadership at HEI, Greenbaum serves as the Chair of the Board of the International Council on Clean Transportation (ICCT), a non-profit organization providing technical analysis and support to the agencies involved in seeking clean vehicles worldwide.
Greenbaum has over three decades of governmental and non-governmental experience in environmental health. He joined HEI as its President and Chief Executive Officer in 1994. Just before coming to HEI, he served as Commissioner of the Massachusetts Department of Environmental Protection from 1988 to 1994, where he was responsible for the Commonwealth's response to the Clean Air Act, as well as its award-winning efforts on pollution prevention, water pollution, and solid and hazardous waste. Greenbaum holds Bachelor's and Master's degrees in City Planning from the Massachusetts Institute of Technology.

Selected Publications
Greenbaum DS. Learning about "cause" and "effect" through well-designed studies of air quality interventions. Int J Public Health. 2017 Sep;62(7):719-720. doi: 10.1007/s00038-017-0979-0.
Adams K, van Erp A, Greenbaum D, Shaikh, R, Russell A. Particulate Matter Components, Sources, and Health: Systematic Approaches to Testing Effects. J Air Waste Manag Assoc. 2015 May;65(5):544-58. doi: 10.1080/10962247.2014.1001884.
Hubbell B; Greenbaum D. Counterpoint: Moving From Potential-Outcomes Thinking to Doing--Changing Research Planning to Enable Successful Health Outcomes Research," Am J Epidemiol 2014. doi: 10.1093/aje/kwu266.
DS Greenbaum, R Shaikh, First Steps Toward Multipollutant Science for Air Quality Decisions, Epidemiology Vol. 21, No. 2, March 2010
DS Greenbaum, The Clean Air Act. Chapter in Environmental and Occupational Medicine, 4th Edition, WN Rom, Ed., Lippincott, Williams and Wilkins 2007

Read more
Greenbaum full publication list